Should You Rent A Food Truck To Cater Your Company Event?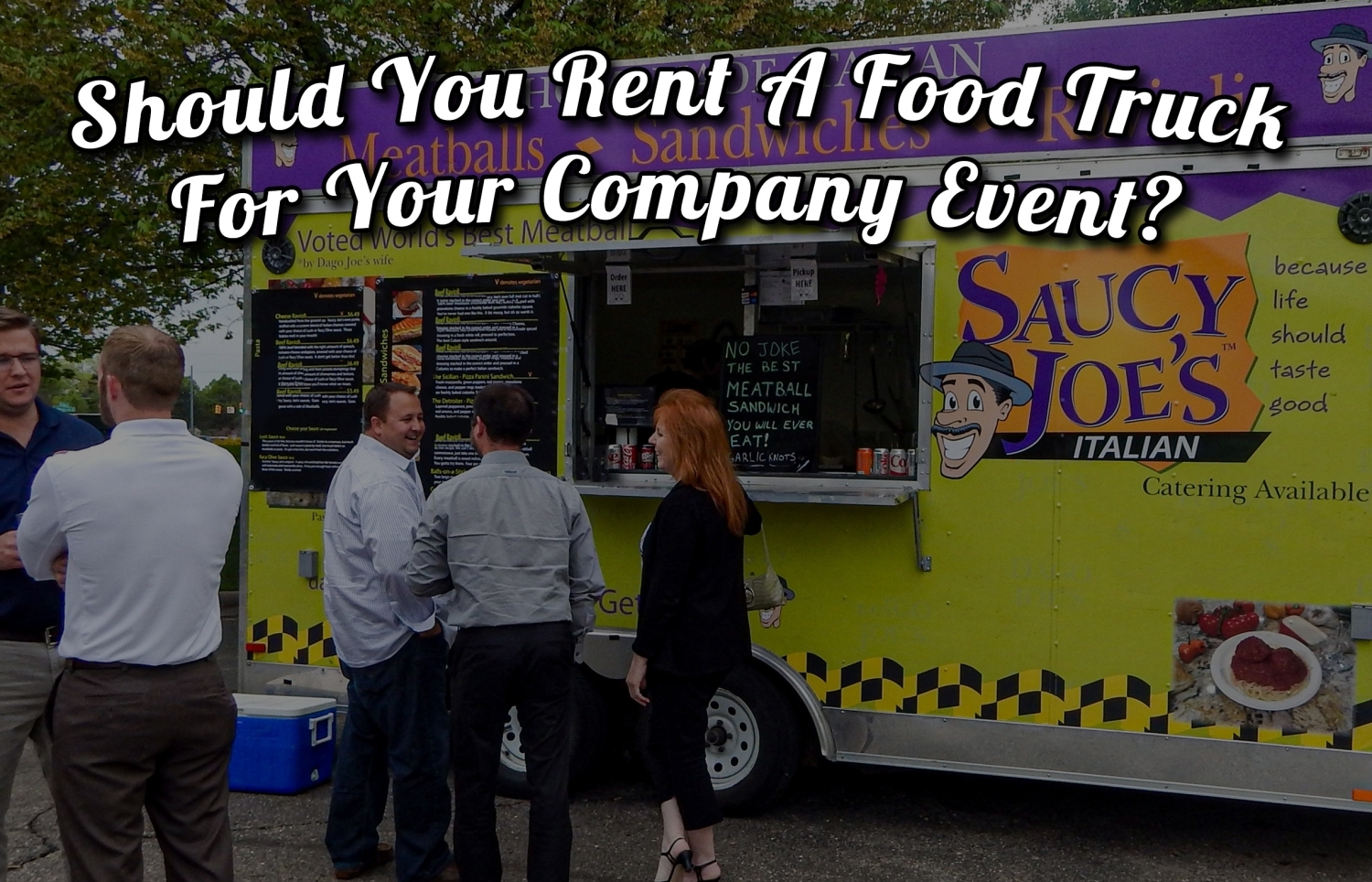 I'll start by answering the title's question very directly- yes. A food truck is an excellent company catering idea, no matter the type of occasion, the location, or the number of people you expect to have!
Of course, we are going to say it's a good idea to use a food truck, but we are presenting the facts to back up our claim. This article will highlight what a food truck can bring to your event and what it will eliminate. There are also some pointers on booking to ensure a successful service.
What are the benefits of food truck catering?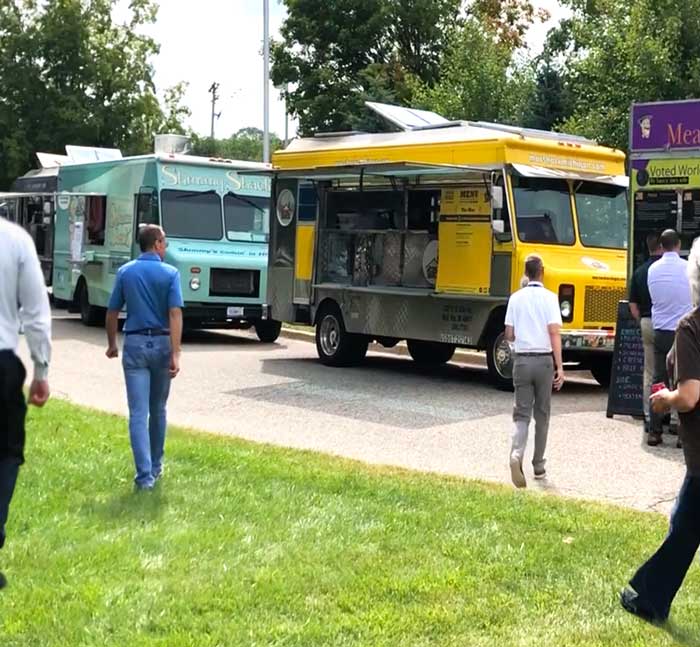 The benefits of hiring a food truck to cater are numerous, but they all come down to how a food truck can amplify an otherwise mundane event. Getting the right mobile caterer to service your party will add:

• Delicious food
Menus like none other. Food trucks serve up fresh, high-quality meals! For example, our truck serves a variety of Meatballs, Panini, and Pasta.
Check out the full menu here.
• Novelty
Anyone can throw a bunch of stuff in a pan and drop it off. Even the least gimmicky truck out there will help break tradition and create a unique experience.
• An exciting atmosphere
As well as adding novelty, booking a food truck transforms an ordinary corporate event into a fun-filled, inviting tone. Even better if the company provides a freebie (like our
Free Mini D.J. Service
)!
• Great service
Guests will come to the window to order from a food truck. Ordering and picking up their meals allows them to interact with the servers on the truck!
• Memorable experience
All these pros add up to create the most important one of all: a remarkable and unforgettable celebration. With the right food truck, your guests will remember the event and will be talking about it for months to come!
• 'Cool points' to your scoresheet
This one is just a little bonus. Who doesn't want to be known for orchestrating the perfect event? Along with expressions of gratitude and high-fives, you may also receive a boost in your prestige around the office!
What problems will booking a food truck eliminate?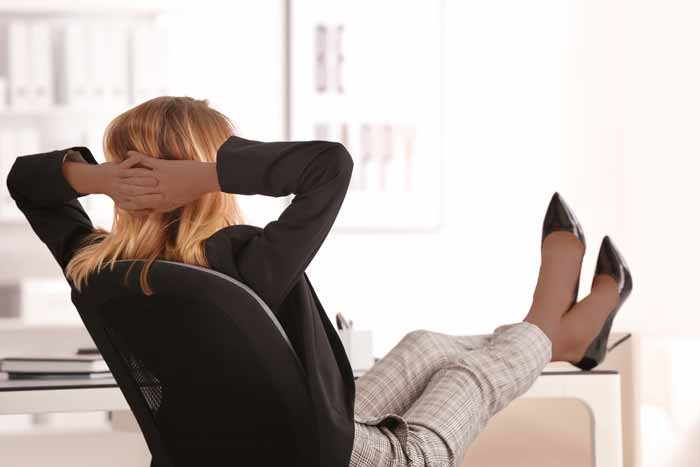 'No' isn't always negative; sometimes, you book a company for what it will rid you of. Choosing the right mobile catering company will eradicate some problems and leave you with the following:

• No food set-up
The food truck or cart should be self-contained and not require much more than a spot to park. Most caterers serve directly from the truck, so you will not need to worry about tables, chaffers/burners, utensils, or serveware!
• No headaches
Since you have booked a food truck to handle your catering, you will do away with the issue of coordinating the food. I.e., trying to get people to participate in 'pot lucks,' picking up trays of food you have to keep hot, or refilling trays as they become depleted. Think of the sanity saved!
• No messy kitchens or dirty dishes
While we can't say you won't have a mess from your guests, we assure you it will not be a food mess. A food truck will prep and serve from the boundaries of their unit and, best of all, take that mess with them when they leave. If you have ever had to scrub stuck on pasta sauce from a pan, you'll understand the weight taken off your shoulders.
• No one left unhappy
Finding a truck with mouthwatering food, excellent service, and a wide variety of menu options will satisfy all your guests. If something goes awry for any reason, you will have professionals on-site to deal with issues; this is better than having the company 20 miles away by the time guests start eating.
• No complaints
Though unusual for us, some people can never be pleased. Even if one of your guests is left unhappy, you won't have to deal with it or take responsibility. They will either chalk it up as an unfavorable circumstance or can directly voice their concern to the catering company.
What types of events can food trucks cater?
All of them. Whether there be 10 or 1,000 people, hosted at your business or in a park, or a multi-shift event- a food truck should be apt to handle it. Another huge perk of hiring a catering truck is that they are EVERYWHERE. Over the years, food trucks have become prominent in Southeast Michigan. They are opening up everywhere and offer cuisines of all types, from traditional American fare to exotic Asian fusion trucks. With so many trucks available, you can book multiple trucks for your events throughout the year or have many trucks at the same event (like a rally)! Doing so will add variety and help you find your favorites. Remember, those with extensive menus are good to bring back.
Renting a food truck is perfect to cater your company's:
Employee Appreciation

Customer Appreciation

Open House

Company Picnic

Family Day
Office Party

Boss' or Secretary's Day

Holiday Party

Corporate Luncheon

Or any other reason!
How much is it to rent a food truck?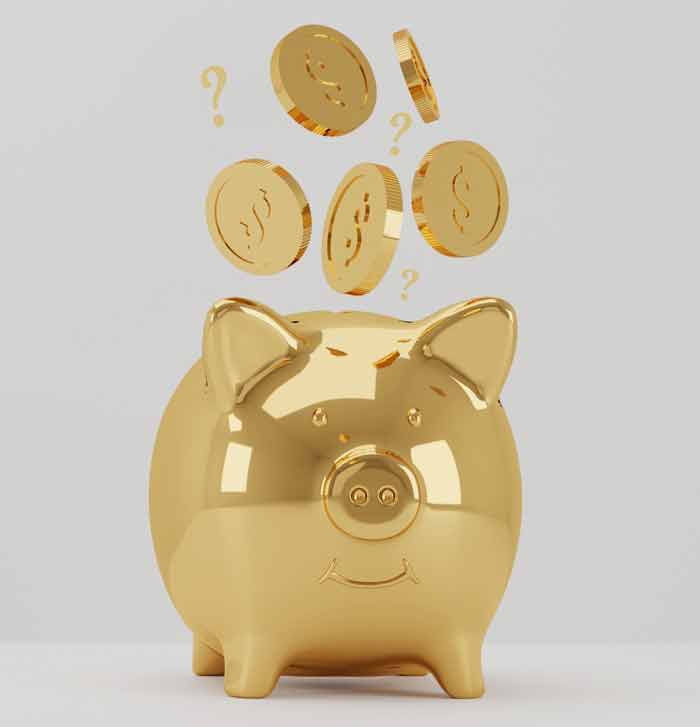 By now, you're probably very excited about this great, fun truck pulling up, easing your stress, and serving your crew with a smile. However, you may be worried about how much all of this costs. You may be surprised by this, but the cost of food truck catering can be more cost-efficient than standard by-the-tray catering! (There will be a whole article on that here). After factoring in the extra amount of food you must purchase with trayed catering, along with their per person, travel, and service charges, a food truck can be the same amount or less, with better food.
Though sticking to a budget may be necessary and the cost will be a decisive factor, please remember the nature of your event. We do many employee-oriented events where the company wants to show gratitude to its staff. They are the necessary gears that turn your operation. Don't they deserve something special? Spending a tad more on employee appreciation and incentive programs can help your group's employee retention.
Saucy Tip: Keeping your crew happy leads to higher employee retention, better performance and will ultimately earn you more in the long run!
Do Your Research: All catering companies charge differently, and you should be able to find a mobile caterer that works perfectly for your event and budget! For more on food truck pricing, visit our Pricing Page or this article on Cost of Renting A Food Truck.
Finally, here are some effective office party and corporate catering tips:

• Look into dessert options.
Something like our Good Vibrations Gelato Truck is an inexpensive way to wow your staff and thank them for a job well done!
• Get your drinks catered.
If offering alcoholic options, drink service is beneficial. They will handle the I.D. checking while also being responsible for not over-serving. It will also help cut down costs, as guests cannot freely pour whatever they wish into their glass. Non-alcoholic drinks are also great to have catered since you will not have to bother checking and restocking coolers as they get emptied.
• Order slightly over your expected number of guests.
Ordering just a bit more food than is needed will ensure enough food for those trying to connive for seconds. It will also prevent service interruptions if you have a few unexpected guests or big eaters.
• Look over menu options and make sure to address any diet concerns.
Will the caterer have vegetarian options? Dairy-free? Gluten-free? Trucks with extensive menus usually offer many options, including vegan and non-pork choices! Though it'll probably be hard to find a menu option for the one person with a red-dye #5 allergen, you can find a truck with something for the majority. If you have a lot of vegetarians in your office or plant, you might want to stay away from that BBQ truck that even their sides have meat.
• Confirm the date with all vendors before putting down deposits.
Plan for a date that will work best for your occasion, but be sure to have an alternative time. A good rule of thumb is to secure your most critical vendors (like the caterer, chairs, and tables) together before the lesser important ones. After booking everything else, you won't want to find out the tent is unavailable!
•
Don't get too weird with the food.
For some, odd combinations are the reason to eat from a food truck, but that doesn't mean everyone desires to try black pepper gelato or sushi burritos. Make sure at least some of the menu items are options that everyone recognizes and will enjoy!
So there you have it. The answer to whether you should hire a food truck is: YES, for all your company occasions.
Still not convinced food truck catering is a good fit for you?
Check out these related articles and learn more about our food truck catering:
7 Helpful Office Catering Tips
Saucy Joe's Corporate Event Catering
---
Are you ready to roll? You're in luck, as you are already on the right site.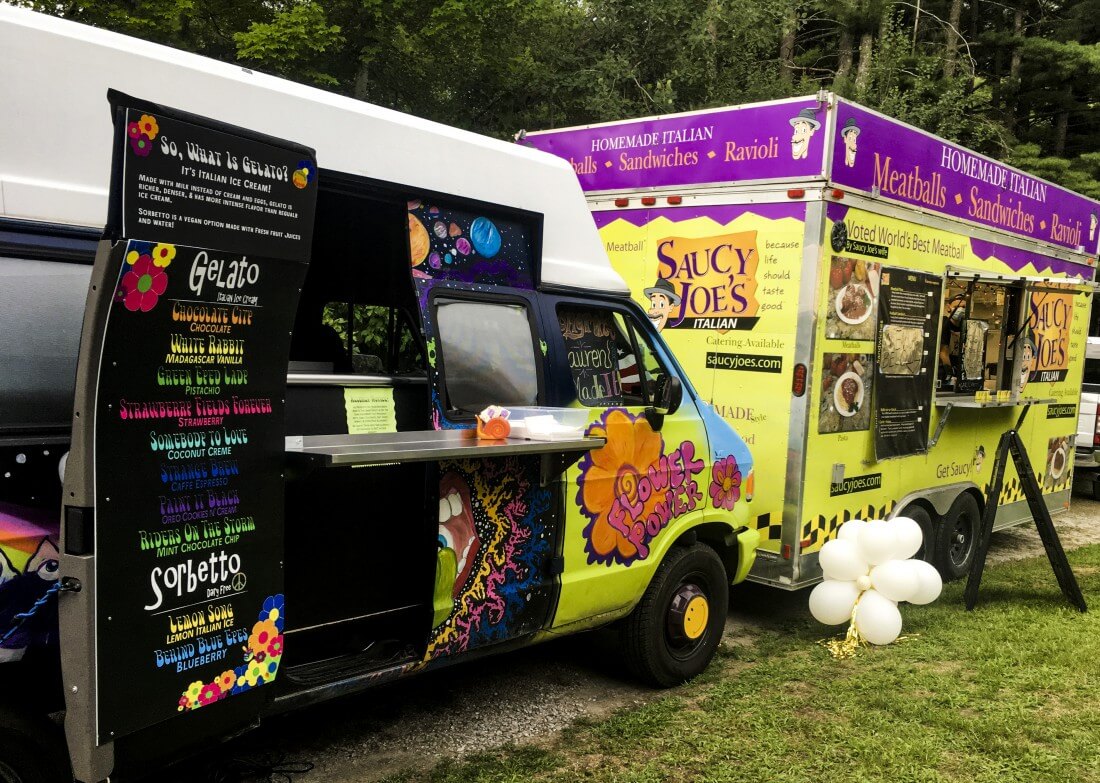 Saucy Joe's
has been Metro Detroit's premier office party caterer for over 13 years. Saucy Joe's Italian food truck offers unrivaled Italian-inspired fare, cooked and served fresh, while providing outstanding service in a fun atmosphere. Good Vibrations Gelato "hippie-style van" serves incredible gelato and sorbetto, giving your guests a sweet and memorable experience!
---