Graduation Party Catering
play_arrow Make Your Celebration a Hit With a Detroit Food Truck
It's A Graduation Party Idea Your Guests Will Never Forget
You'll be stunned at how easy it is to have fresh gourmet food at your high school, college, or tech school graduation party. Have no worries about making anything, transporting anything, or setting anything up. We'll roll in with our mobile kitchen and be busting out freshly-made Italian dishes in nothing flat. Licensed to run our food trucks in Detroit, Ann Arbor, and every other city in Michigan, Saucy Joe's can serve you no matter where you host your party.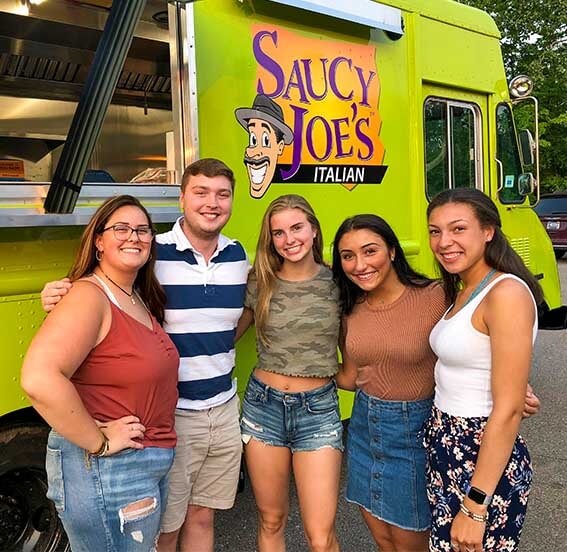 ---
play_arrow Don't Serve Some Nasty, Old, Dried-Out Crap
Open house graduations have become very popular, but with visitors eating at all different times, these events pose a problem with the catering. What would you rather have, some boring "stuff" that's been sitting out in a tray all day - or delicious, fresh meals made to order for each guest? That's what I thought!
---
play_arrow Let the Fun Begin
Step up the party by having us play tunes based on your graduate's musical interests. Guests can make requests to personalize their experience and make a lasting impression on an important milestone. They'll be dancing in the streets…
---
play_arrow Bring on the Dessert
How cool would it be to have a 1960's-style hippie van serving authentic Italian gelato (Italian ice cream), sorbet, and Italian ice? Saucy Joe's has Detroit's best gelato truck and it should be at your party! Your kids will be so happy, they may even start liking you.
---
play_arrow Enjoy Yourself & Wake Up to a Clean Kitchen
Whether your occasion is at home or your favorite park, you won't be cleaning up a cooking mess, because there won't be one to clean up. It sure is a lot easier to have fun when you're not dealing with food during the entire party.
More About Food Truck Catering
Catering Pricing and Packages
---
When you book Saucy Joe's for your party catering, you're hiring the best food trucks in Detroit, Ann Arbor, and all of Michigan. Rent a Detroit food truck for your graduation party catering today.