Wedding Catering
play_arrow Food Catering Can Make or Break a Wedding. Don't Break Yours.
Wedding Food Has to be Great
If there's one thing your guests will remember about your wedding, it's how good (or bad) the catered food was. Metro Detroit's best food truck, Saucy Joe's Italian, will make your wedding event memorable by serving awesome fresh-cooked gourmet Italian cuisine onsite. We have great menu selections that can be customized to fit your needs. If you're looking for a great dessert option, hire our Good Vibrations gelato truck to provide authentic homemade Italian ice cream. Your guests will not only thank you, they'll be raving about the food for years.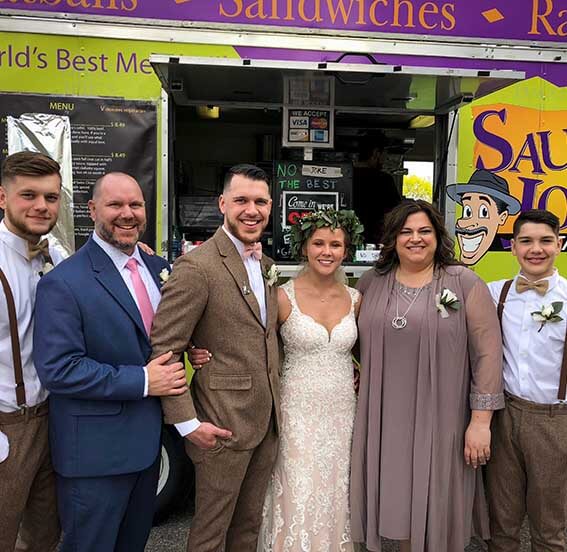 ---
play_arrow Cater Your Other Wedding Related Events!
In addition to wedding receptions, we also cater wedding rehearsals, late night snacks, day after brunches, engagement parties, and bridal showers. Our gelato truck is terrific for dessert or late night snack options during the Summer months.
---
play_arrow Saucy Joe's Can Cater to Many Venues
Did you know that we're a preferred caterer for Detroit's Eastern Market? It's a high honor that we worked hard to earn. We also work with many other Detroit area venues and rental halls that allow outside caterers and food trucks to provide food.
---
play_arrow Your Wedding Food will be Remembered Long After the Cost is Forgotten
Don't be the wedding that was remembered for the bad food. Hire Saucy Joe's Italian Food Truck & Catering service for delicious meals and desserts that everyone will love.
More About Food Truck Catering
---
When you book Saucy Joe's as your wedding caterer, you're hiring the best food trucks in Detroit, Ann Arbor, and all of Michigan. Rent a food truck for your wedding today.