Corporate Event Catering
play_arrow Liven Up Your Corporate Event With a Detroit Food Truck
Have Your Party Cooking in No Time
You'll be stunned at how easy it is to have fresh gourmet food at your company's special occasion! Have no worries about making anything, transporting anything, or setting anything up. We'll roll in with our mobile kitchen and be busting out freshly-made Italian dishes in nothing flat. Insured & licensed to operate our food trucks throughout Michigan, Saucy Joe's can provide food service no matter where you host your party, without the need for permits.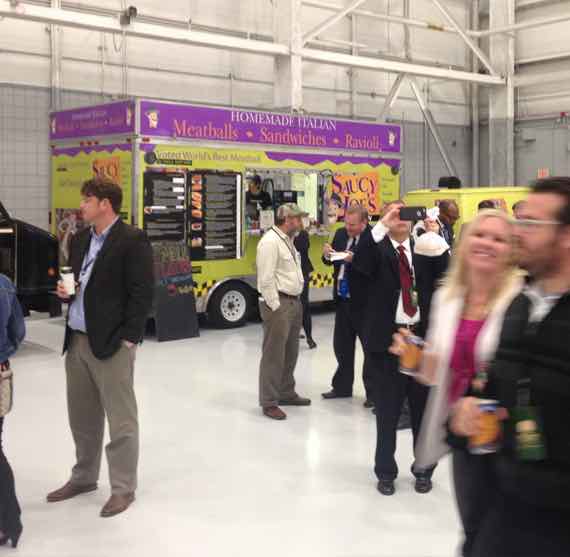 ---
play_arrow Hire an Event Catering Professional
Have confidence knowing a leading food truck in Metro Detroit will not only execute your food service without a hitch, but can also handle a large group of attendees. We can also Book Saucy Joe's Italian Food Truck or Good Vibrations Gelato Ice Cream Truck for:
Customer Appreciation Day
Vendor Appreciation Day
Open Houses
Conventions & Trade Shows
Seminars & Conferences
Milestone Celebrations
Grand Openings
Retail Events
---
play_arrow Indoor Catering & Drink Service
In addition to food trucks, we can set up indoors buffet-style with serve staff, or prepare and serve cafe-style. If you need coffee, drinks, and snack service for meeting breaks, we've got you covered. With flexible setup and serving options, we're certain to meet your food service needs.
---
play_arrow Attract More Guests to Your Celebration.
You're sure to get a better turnout when invitees find out that there will be fresh gourmet food prepared on site and to order. It's a great way to thank your customers or vendors on 'Appreciation Day' or promote more traffic during a grand opening or open house.
---
play_arrow Personalized Catering
Wow your team and clients with private catering during your professional events. We can even address your special requests and dietary concerns such as vegetarian, vegan, and gluten-free items. Let us customize a menu that works for you.
More About Food Truck Catering
Catering Pricing and Packages
---
When you book Saucy Joe's for special event catering, you're hiring the best food trucks in Detroit, Ann Arbor, and all of Michigan. Rent a food truck for your corporate event today!