The Best Food Trucks in Detroit!
---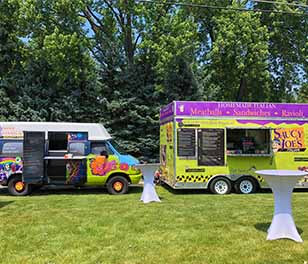 Good Times, Great Eats!
You don't need stuffy, expensive restaurants to enjoy gourmet Italian cuisine. With Saucy Joe's you'll get tasty cuisine and a fun, unique experience you won't forget, no matter where you are in the Metro Detroit and Ann Arbor areas.
Double the fun when you hire both trucks! Finish off your special occasion with Detroit's best gelato (Italian ice cream) truck. Our Good Vibrations hippie van-themed truck will delight your guests.
---
Hire Michigan's Leading Italian Food Truck & Caterer.
With over 11 years of experience in Metro Detroit food truck catering, you'll have peace of mind knowing that we have the know-how to help make your event hassle-free and memorable. We'll work with you to meet your needs and your budget to ensure a positive experience. Contact us today to find out how.