Book Detroit's Favorite Gelato Ice Cream Catering for Your Event!
play_arrow Book Detroit's Favorite Gelato Ice Cream Catering for Your Celebration!
Bring Fun & Flavor to Your Ice Cream Social Party
Hire the best ice cream caterer in Detroit and you'll kick it up a notch with more personality and flavor options! Don't settle for a boring ice cream cart rental when you can get a cool gelato truck for your special occasion. Great for:
Staff Appreciation Day
School Events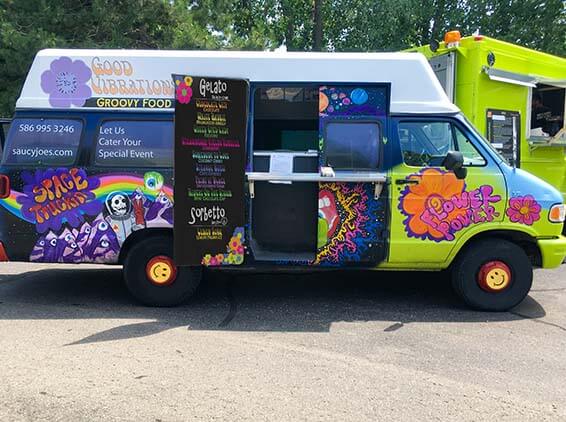 ---
play_arrow Get More Than Just Ice Cream
Choose our Good Vibrations Gelato Truck to handle your dessert catering and you'll get more than great-tasting desserts… you'll get an experience. Our groovy hippie van, with irresistible gelato, psychedelic music, and a fun-loving crew will have guests in sweet heaven!
---
play_arrow Partygoers Will Love the Frozen Treats We're Dishing Out
Our gelato (Italian ice cream), sorbet, and Italian ice give traditional ice cream a run for its money. We use the highest quality all-natural ingredients and 100% real fruit to create a treat that's exploding with fresh flavor. You won't find any artificial flavoring or syrups on our gelato ice cream truck.
Gelato Truck Pricing
---
play_arrow No Worries. We Got This.
When you're counting on a catering service to keep your guests happy and fed, hire someone with a reputation for being trustworthy. With years of experience and great customer feedback, you're assured a successful party with the best dessert truck in Metro Detroit.
---
What are you waiting for? Our schedule fills fast, so book our Detroit Gelato Truck today for your ice cream social or other special event.