Event & Party Catering
play_arrow Make Your Private Party Rock With a Food Truck
Having Amazing Food at Your Party Has Never Been Easier
Be blown away at how stress-free it is to have fresh gourmet cuisine cooked right on site at your special occasion. You won't even have to think about food preparation, quantities, transporting, setting up, etc. We'll ride in with our mobile kitchen and be banging out fresh-made Italian meals in no time. Licensed to operate our food trucks in Detroit, Ann Arbor, and every other city in Michigan, we can serve your party wherever it is.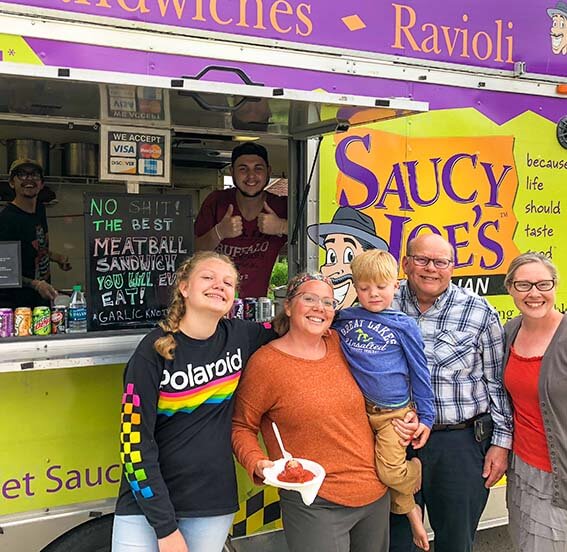 ---
play_arrow Hire a Party Catering Expert
Trust a leading food truck in Metro Detroit to make your party the talk of the town. Book Saucy Joe's Italian Food Truck or Good Vibrations Gelato Ice Cream Truck for:
Retirements
Holiday Parties
Anniversaries
Baby Showers
---
play_arrow Add Fun & Entertainment to Your Milestone Event
Have a special theme? We can double as your DJ by playing music you want at your celebration. Party-goers will be thrilled to be able to dance to their favorite songs as they wait for their order. Or choose one of our awesome playlists!
---
play_arrow Stop Worrying About Food. Start Having a Great Time.
Imagine this... Nothing to cook. No kitchen to clean. All that free time to mingle. Just a dream? No, it's food truck catering by Detroit's best: Saucy Joe's.
More About Food Truck Catering
Catering Pricing and Packages
---
When you book Saucy Joe's for special event catering, you're hiring the best food trucks in Detroit, Ann Arbor, and all of Michigan. Rent a food truck for your party today.