How Much Does It Cost to Rent a Food Truck?
Hiring a food truck for your big event is one of the best ways to make it memorable and keep your guests hanging out for longer. And with so many great options, there is a food truck rental for nearly any occasion. But how much does it cost to rent a food truck?
Food truck catering costs will depend on several factors, including the event type, the rental duration, and any additional expenses like insurance and permits. In this short guide, we will look at some of the most commonly asked questions when hiring a food truck and provide an idea of what you can expect to pay.
We'll answer some of the top questions, such as:​
How much is it to rent a food truck?
What should I ask potential food truck caterers?
Are there any additional costs associated with renting a food truck?
Is there anything I need to consider before renting a food truck?
How much should I tip the food truck caterer?
Knowing what to expect - and what questions to ask - will help you make the best choice for your event and get the most bang for your buck.
How Much Is It to Rent a Food Truck?
Several factors affect how much you'll pay to rent a food truck. That's why it's crucial to have your details ready before you start shopping around. Most trucks will charge per person, in addition to other rental charges. The menu of the food truck, the time needed for the rental, travel to your location, and any other services or factors, like permits or insurance, will all affect your total cost.
Minimum costs can vary from $1500 or less to $2500 or more, depending on all the variables. The different costs can come from rental fees, food and beverage costs, staffing fees, fuel costs, permit fees, insurance costs, and more.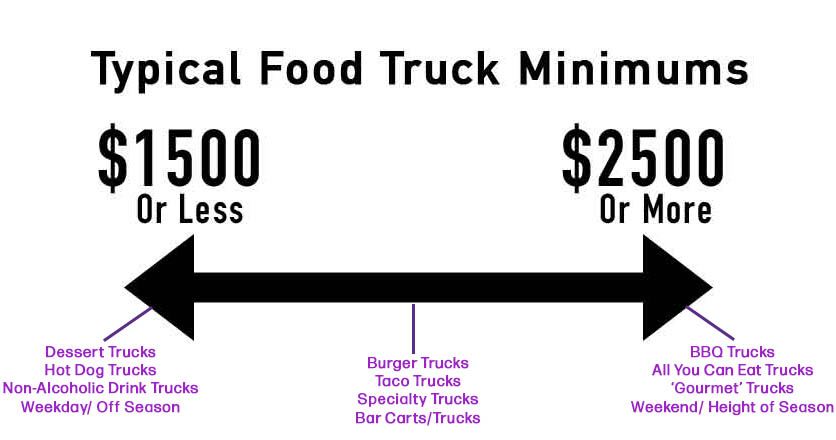 It's important to consider all that goes into your food truck rental - such as the size of the party, menu, the length of time needed for the rental, any additional services you may need, etc. When looking at the price, consider what the investment means for your event - rather than preparing food yourself, you're hiring professionals who will serve your guests great food and an excellent experience!
What Should I Ask Potential Food Truck Caterers?
The cost of hiring a food truck varies from vendor to vendor, so it's best to shop around before you make a commitment. It can be difficult to make exact comparisons between vendors, but knowing what to ask will help.
Ensure you weigh your options properly by asking these questions as you consult with each food truck:
​
What type of menu will you provide?

Is there a minimum?

What do include/ not include? (things like serve ware)

How do you charge- by the serving, by the hour, or both?

If we go over on the number of servings, how will extra charges be handled?

Are there any additional costs associated with your services, such as staff, rental, or travel fees?

Is there a discount for weekdays or off-season rentals?

Do you require a permit or additional insurance?

How much is the deposit and what payment methods do you accept?
Professional food truck companies should be more than happy to discuss the details with you before the event - so don't be afraid to ask away! The more clear and precise the details you can provide them, the better they will be able to tailor their services and cost estimates to meet your needs. And with better planning and expectations, you can ensure that your event goes off without a hitch.

Remember: All food trucks are not the same. Call up 10 different trucks and you'll get 10 different price schedules and methods of quoting.
How Much Should I Tip a Food Truck Caterer?
Tipping your food truck is not only customary but is also a nice way to show your appreciation for the hard work and great food the workers provided. A food truck will either include the gratuity or will leave it up to you. You'll want to check on this ahead of time, so you can plan accordingly.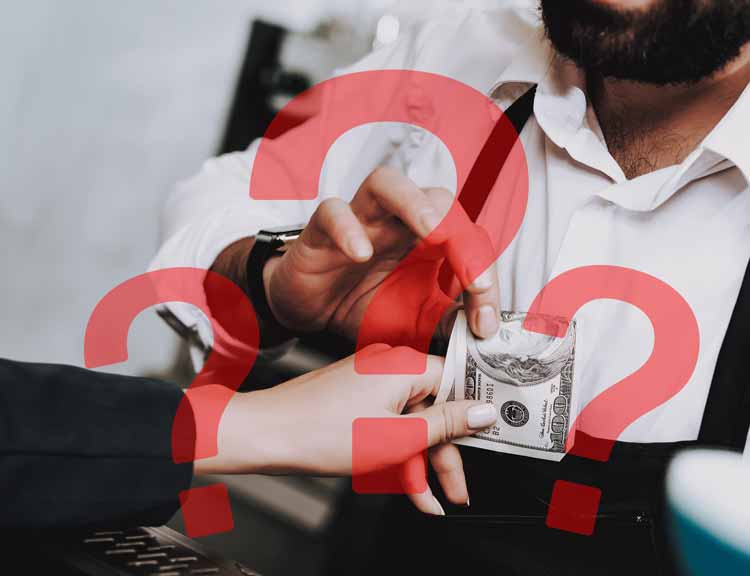 When the tip is included-
Some caterers will include a standard gratuity in your quote. In that case, the company has figured a fair amount for your service. Of course, if you've received outstanding service, an additional tip is very appreciated by your servers.
When the tip is not included-
Other caterers prefer their clients to determine the tip after their service. When determining the amount, keep these helpful pointers in mind:
Know what's standard: our 'suggested tip' is 10-15% of the food amount (15-20%, if things were top-notch).
Keep your guest count in mind. Extensive menus and larger parties are more work. Please tip accordingly.
If you're really unsure how much to tip, ask the truck to include the gratuity in your bill or ask what they consider 'standard.'
Gather All Necessary Details Before Requesting a Quote:
After finding some prospective food truck caterers, you'll want to shop around and get a few quotes. Make this a smooth and simple process by having this important information ready:
Event Date: The price can change drastically depending on the date/time of year. If a specific date has not been chosen, it's good to have an idea of when you want it- the month or season and day of the week (weekday or weekend).
Menu: What do you want to offer guests? Many trucks will have different packages and menus to choose from ranging from snack or appetizer options to full meals.
Location: Where will the party be held? Knowing this will help the caterer confirm availability and will be needed to determine travel time and mileage costs.
Food Service Times: How long will you need service? This may also be a large factor in figuring the total price.
Number of Servings: Have an idea of how many guests you'll be inviting and whether you want them to be able to come up for seconds. Many trucks will allow for changes to the headcount after booking, but some may not. Find out what each company's policy is on headcount and menu changes.
Other Things: Some other factors that can affect the cost include permits and additional insurance for certain venues, any add-ons (like drinks), extra set-up time, staffing, etc.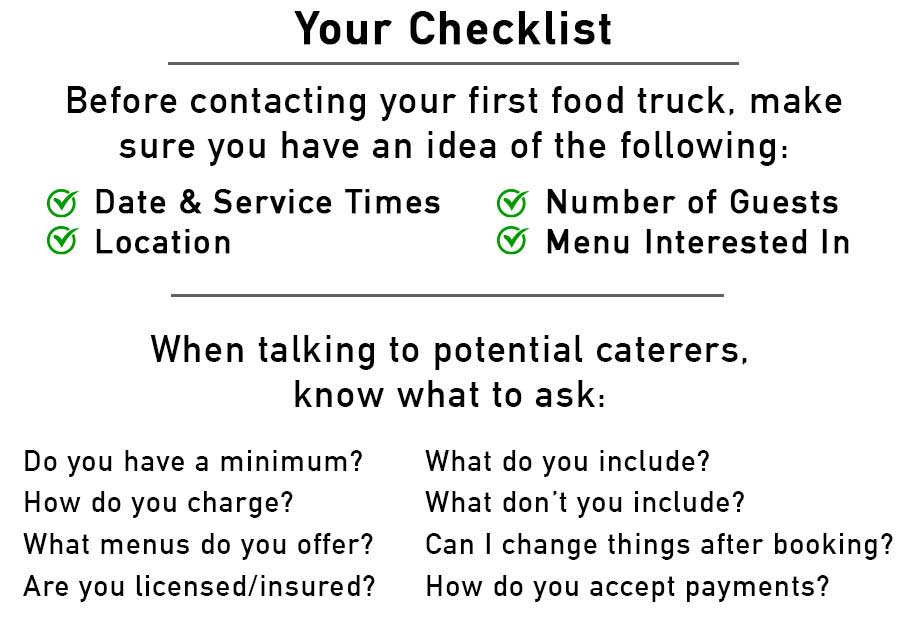 Overall, renting a food truck for an event is usually more cost-effective than other catering options - but there are still some things to consider when figuring out your budget.
Be sure to connect with a professional food truck operator for accurate pricing information and details about their services. That way, you can ensure your event runs smoothly, and everyone enjoys delicious eats!
Cater Your Next Event with Saucy Joe's!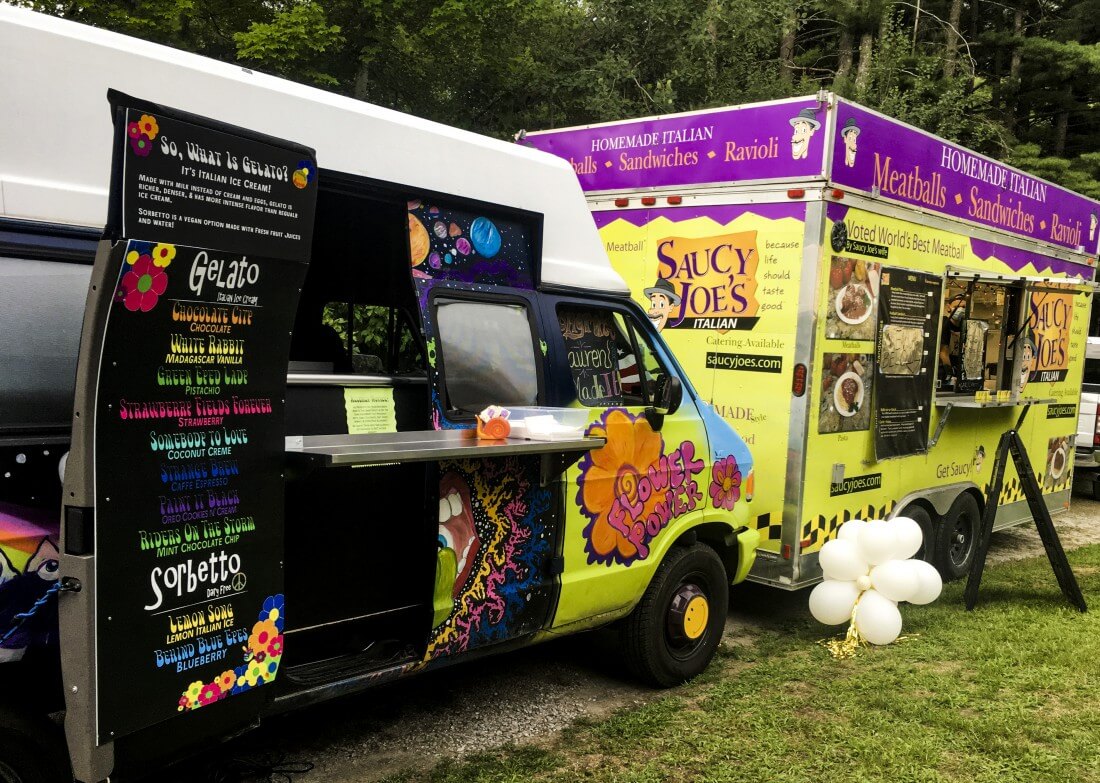 At Saucy Joes, we know the importance of hiring a quality food truck for your event. We offer competitively-priced options, with a wide range of menus and services available to fit any budget. Contact us today for more information about renting a food truck for your next big event!
You can find some of our general pricing online - and we are ready to answer any questions you may have about our service offerings. We can't wait to work with you to make your event a success! Reach out today to learn more.