About Saucy Joe's Detroit Food Trucks, Catering & Sauces
play_arrow Gourmet Italian Cuisine in a Fun and Casual Environment
You don't need no stuffy, expensive restaurants to have delicious Italian food in Metro Detroit.
With Saucy Joe's, you'll get great eats and a fun, unique experience you won't forget. Oh yeah, and don't be fooled by our casual appearance. Our food rivals even the fanciest and expensive Italian restaurants… for real!
No matter where you are in the Detroit and Ann Arbor areas, our food & sauce products always start with the freshest, best-tasting ingredients, so you're certain to get some love into your tummy. Come find us and enjoy!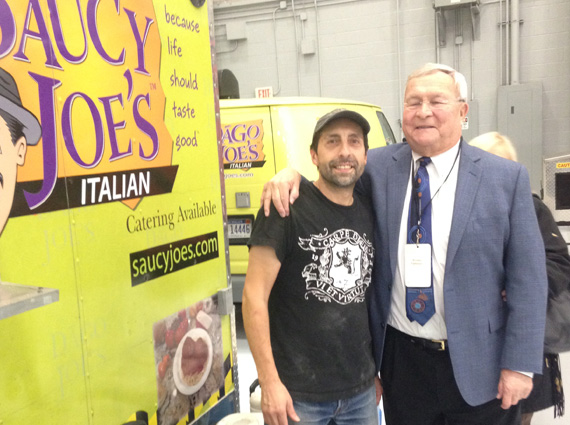 ---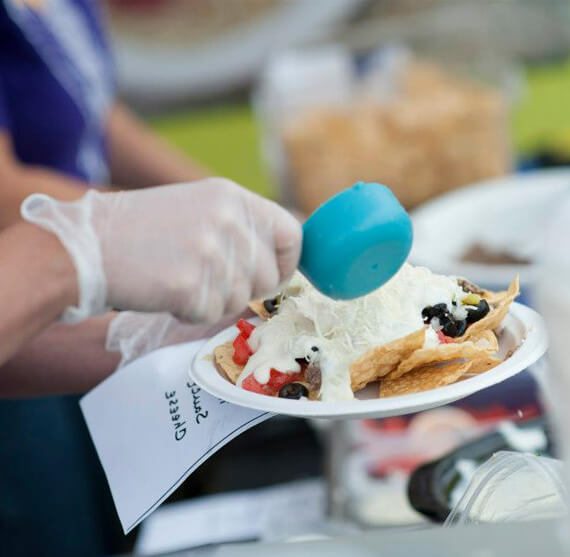 play_arrow Detroit's Original (and Still Best) Italian Food Truck
Did you know we were the first Italian food truck in Michigan?
Now in our 11th year, we're actually the oldest year-round and daily operating gourmet food truck in Metro Detroit. Here are some of our kudos:
Best Food Truck in Detroit Nominee 5 years in a Row
"One of the World's Best Meatballs" - Visit Detroit
A Favorite Food Truck in Eastern Market - Thrillist Detroit
Best Caterers in Detroit - Enterprise
MSU 'Making it in Michigan' Product Winner - Pasta Sauce
Preferred Caterer for Eastern Market
---
play_arrow We Have Both Savory and Dessert Trucks
Our trucks are fully licensed and insured, fully operational mobile commercial kitchens, able to cook up a storm at events, lunches, functions, parties… you name it. Our Saucy Joe's Italian food truck will bring your party to life with the best Italian food in Detroit. For your dessert catering, we've got you covered with the Good Vibrations hippie van-themed Gelato (Italian Ice Cream) truck. It's the grooviest and best Metro Detroit gelato truck, serving the most authentic, flavorful ice cream, sorbet and Italian ice. A gelato truck rental is a great way to finish off any special event!
---
play_arrow A Menu Like No Other
Often referred to as "The Meatball Truck," we really do have the best meatballs and meatball sandwiches you'll find. Check out our food truck menu for one of a kind panini sandwiches, homemade sauces and pasta, and our very popular garlic knots - all prepared on site. Unlike many other food trucks, we also have a full catering menu consisting of salads, soups, gelato (Italian ice cream) and more, including vegetarian, vegan, and gluten-free options.
Questions? Ask us or visit our FAQ
---
play_arrow The Problem With Standard Catering
We solve the problem of having food that's been sitting in trays for hours before it gets served, which as you know, is not a good thing. You know what I'm talking about. So do you want some dried out crap? (I didn't think so).
---
play_arrow Catering Your Event With Our Food Trucks is Just Better
Although we can do traditional-style catering, if you're having an event in Metro Detroit, food truck catering has a lot of advantages. Renting a food truck for your party allows you to have fresh food made right on site. It also saves you time and hassle. With Saucy Joe's, you'll have menu choices that you just won't get with any other trucks or caterers. Guests love it because they can order what they want and also get a great experience.
---
play_arrow A Trusted Caterer for Michigan Businesses
When large organizations need to hire a caterer in Metro Detroit, they know they can trust us to bring the most reliable gourmet food trucks Detroit has to offer. We've helped make successful events for General Motors, Chrysler, Ford, Henry Ford Hospital, Detroit Medical Center, Little Caesars, and Comerica Bank to name a few.
---
play_arrow The Best Italian Catering for Your Public Event or Private Party
You want something cool at your upcoming event? Cater your special occasion with our food trucks. We have food truck rentals for all occasions such as graduation parties, weddings, corporate events and office parties.
---
play_arrow We Want You Satisfied, So We're Flexible
We understand that you're the boss and every party is unique. Ultimately we want you to be happy so you can spread the joy about how great we were to work with. So, if there is something special you're interested in, or you have dietary concerns, just ask. Hey, we can do pretty much whatever you want, as long as we can guarantee the absolute best food and service possible. Otherwise, no way, dude!
---
play_arrow Our Handcrafted Sauce Products
Finally, a pasta sauce that doesn't suck! Truly the finest pasta sauce this side of the Detroit River.
Saucy Joe's pasta sauces are true gourmet products, produced locally right here in Michigan. Buy a jar of sauce from a store near you or from the Saucy Joe's food truck and experience the bold flavors of Saucy Joe's at home. Our delicious sauces will make anything crappy taste better!
---
More questions? Check out our FAQ page for a wealth of information and many answers to questions, or contact us.