15 Awesome Ideas For A Graduation Party 2023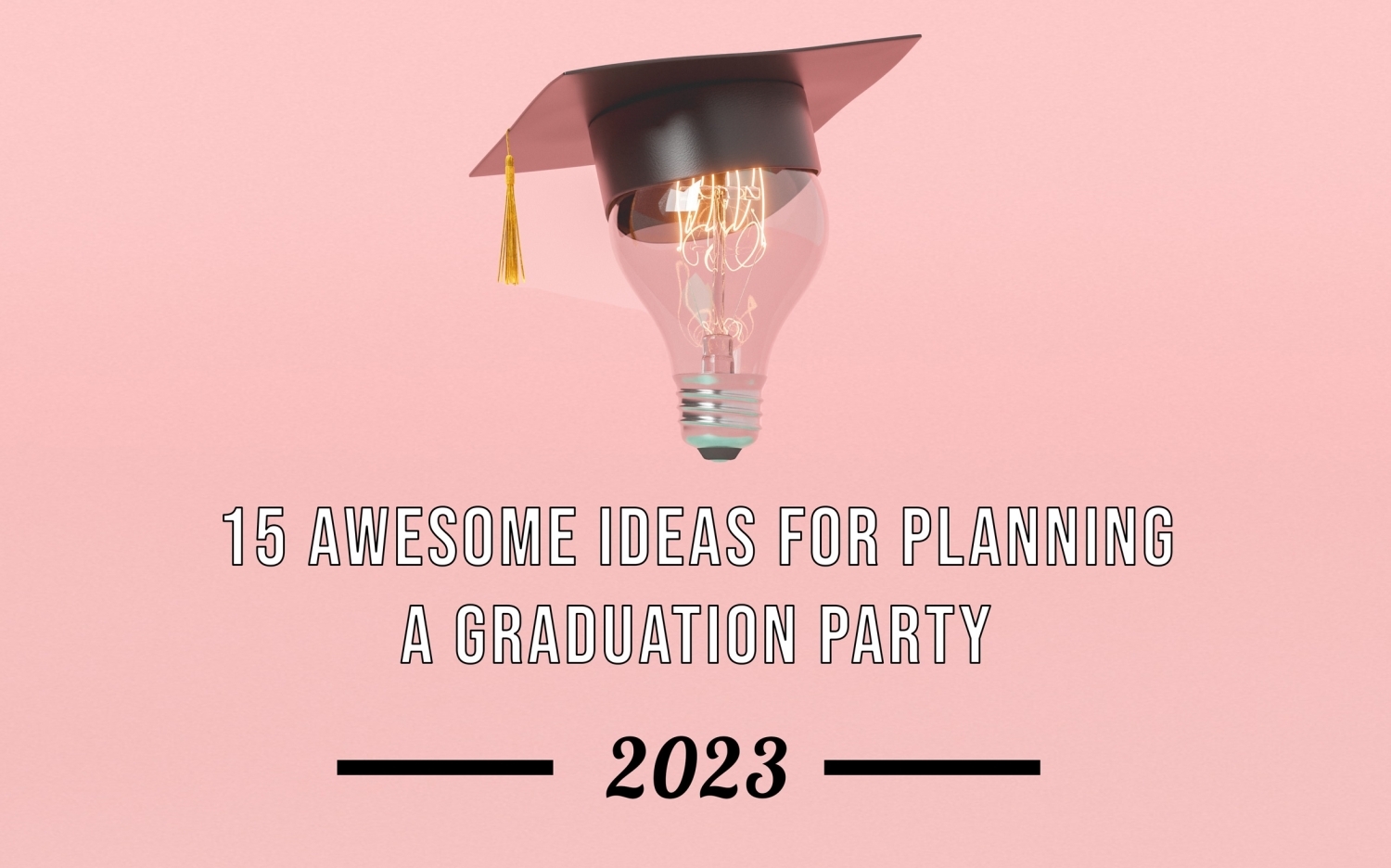 Summer is fast approaching, and for many, now is the time to start planning a graduation party. Over the last 13 years, we have seen firsthand what makes a fantastic (or not-so-fantastic) grad party. Included are some of our favorite grad party ideas and a brief how-to for each in this guide to help ensure your celebration is a home run!
Are you looking for more Graduation Party Planning Ideas? Learn more about how to set yours up with 11 Helpful Tips For Planning A Graduation Party.
Here are 15 Awesome Ideas For Planning Your 2023 Graduation Party:
1. Serve Cool Drinks-

Offer desirable refreshments:
Whether providing alcoholic beverages or not, be sure to have various options. Consider making a signature cocktail (and its mocktail equivalent) that ties in with your party's theme!
Saucy tip: Having several drink stations will make it convenient for guests to grab a drink anywhere.
2. Hire a Food Truck-

Make your graduation party food memorable:
I'm sure you saw this one coming. Booking a food truck to cater your grad party is a surefire way to have a unique & unforgettable food experience. Just make sure you're booking the right one.
Having gourmet food made fresh on-site is one of the many reasons booking a food truck is better than standard, by-the-tray catering! (link coming soon)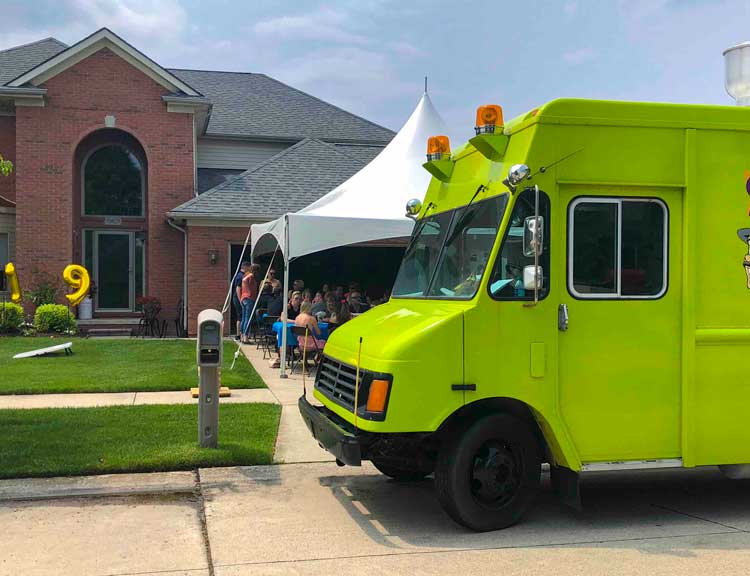 3. Invite Guests with E-Vites-

Change details in a snap:
We've always been huge advocates for online invitations. From designing to sending, e-vites are more convenient than traditional paper invites. They can also be more friendly to the wallet, with some companies offering free services. Another big plus for these electronic invitations is the ease with which details can be updated and instantly sent to guests!
4. Set Up a 'Comfort Station'-

A nice touch that's appreciated:
Turn an old cart or table into a functional accommodation area. Keep this area stocked with paper towels, sunblock, bug spray, and anything else you think will be needed. Keep your guests' concerns at bay by including hand sanitizer, masks, and gloves.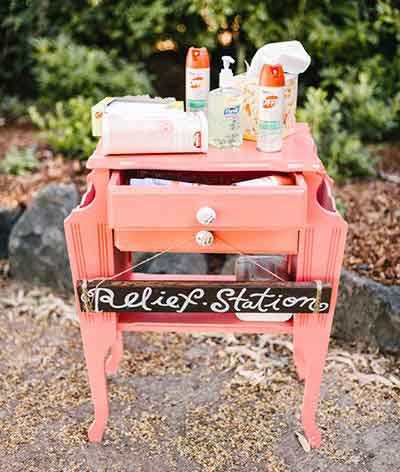 5. Turn Up The Volume-

Hire a DJ or Play your favorite tunes:
Nothing is worse than silence at a party, and music is a must. Hiring a DJ can be good if you want to avoid the hassle of setting up equipment and putting together playlists. No matter what kind, having music playing keeps the party lively.
Did you know? Our food trucks offer free Mini D.J. service with every booking!
6. Use a Personal Instagram Hashtag-

For easy picture sharing:
Social Media tags make sharing photos a breeze! Keep all your party's pics in one easily accessible online album. Make or print out a few signs encouraging guests to share pics with that hashtag.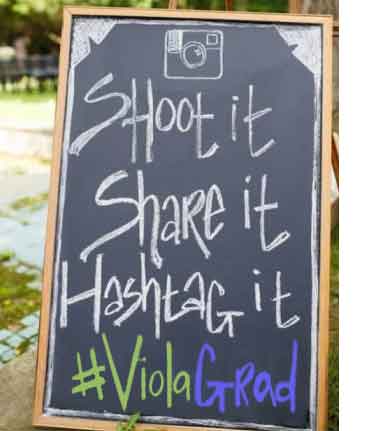 7.

Get a Tent

-

Don't overlook this idea:
We all know Michigan has unpredictable weather. Even if the forecast is clear, ensure you're covered by renting a tent or other enclosure. It will come in handy if it starts to rain and provide shade if it is overly sunny. It's also another opportunity to use your graduation party decorations, such as banners and string lights, for ambiance!
8. Make DIY Centerpieces-

Extra points for personalizing them:
A quick search will find you many tutorials for table decorations. Our favorite graduation party centerpiece idea, called "Then and Now," is a surefire way for some goodhearted embarrassment. Find your favorite photos from their childhood and have the grad reenact them! It's a fun alternative to traditional floral centerpieces and is a great conversation starter.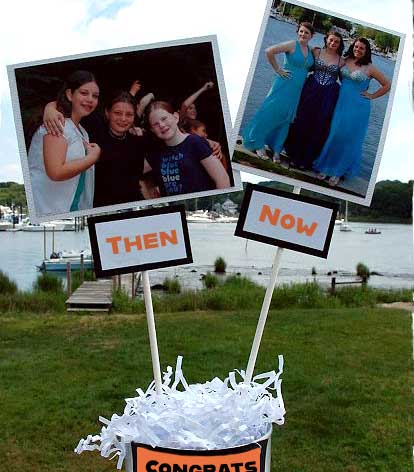 9. Combine Your Parties-

Have one fabulous bash:
If you've got a tight budget but still want to have an extravagant party, consider combining your senior's party with their best friend's or family member's! The bill can be split, allowing for better caterers, drinks, and entertainment, and your teens can share their grad experience.
10. Have It Outside-

Keep your house clean:
Enjoy the summer weather and keep your home mess-free by choosing an outdoor spot for your grad party's location. Set up your lawn with a tent, chairs, and tables, or find a park with pavilion rentals nearby to host your party!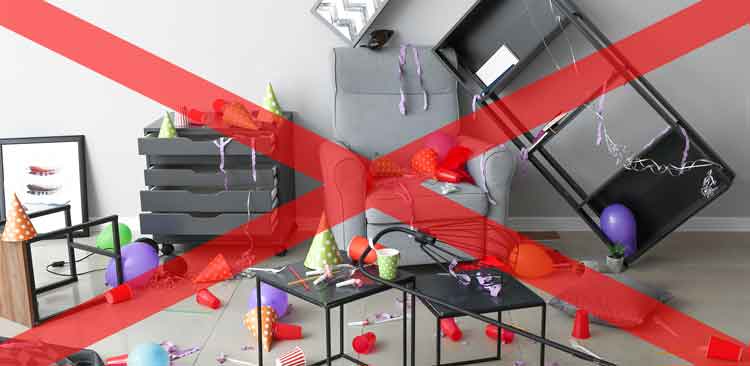 (link coming soon)
11. Offer Sweet Desserts-

Like a gelato truck:
The key to an A-plus graduation party? Sugar, and a lot of it. Setting up a dessert table with your teen's favorite assorted sweets will be loved by partygoers, young and old! Add another delicious element to your party by hiring a dessert caterer or ice cream cart.
12. Send Guests Off with a Treat-

Party favors never go out of style:
Sending guests off with a memento doesn't need to be expensive or extravagant. Candy, for example, is perfect. Find treat bags that fit your theme or personalize your own. Fill with candy that won't melt, and have these out for guests to grab as they leave.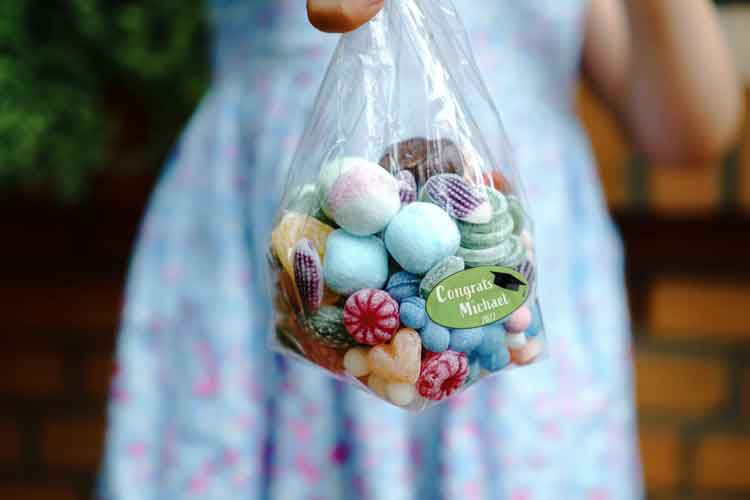 Want more variety? Set up a bar with assorted candies in large bowls or jars and have guests fill their own!
13. Add a Fun Game-

Keep guests entertained:
The best way to ensure guests are amused is to have games everyone can play! Things like cornhole and spikeball have been increasingly popular at outdoor parties. In addition to the standards, try to dig up some fun games that mean a little more. One example is Memory Block Jenga, which has places like 'school,' 'mall,' 'restaurant,' etc., written on each block. As guests pull pieces, have them say aloud a memory of the graduate at that spot before trying to restack.
You could also use those blocks as a guest book! Have these on your graduation table display to let partygoers write their favorite memories with the grad on them and begin stacking the Tower of Memories.
14. Stick to a Theme-

For your graduation party decorations:
Sticking to a theme will keep decorating for your graduation party easy as pie. Do you want to show your school spirit? Pick tablecloths, cups, and decorations in the graduate's school colors. Or add some of your child's personality into the celebration by picking their favorite hobby as inspiration!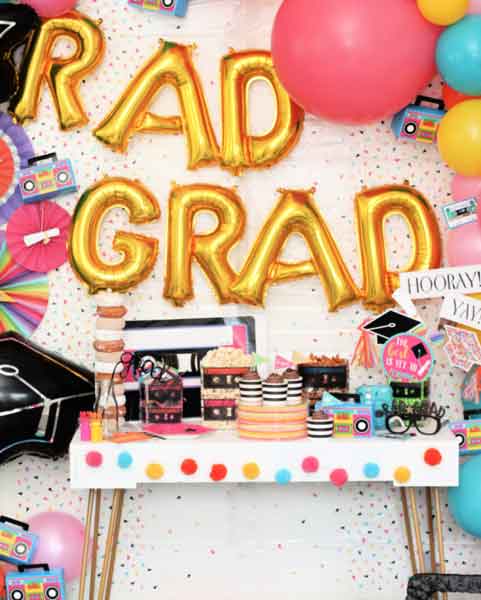 15. Make a Photobooth-

Easier than it seems and adds excitement:
We all know that teens love to take pictures. Photobooth rentals and kits are nice, but you can create the same experience with just a few cutout cardboard pieces and some party hats or wacky glasses. Set up these props on a table, find an area or create a backdrop for picture taking, and add some graduation decor (banners, balloons, etc.). You'll now have one more spot in your party for guests to capture their experience!
Saucy tip: Have your 'models' add those photos to your party's personal Instagram hashtag for easy access and sharing!
There it is. Fifteen ideas for your child's High School graduation party to ensure guests have a great time and ultimately make your party a success. The critical elements of a grad party are awesome food, sweet desserts, and fun music. As long as those are covered, everything else is a bonus, so remember to relax and have fun (it's your party, too)!
---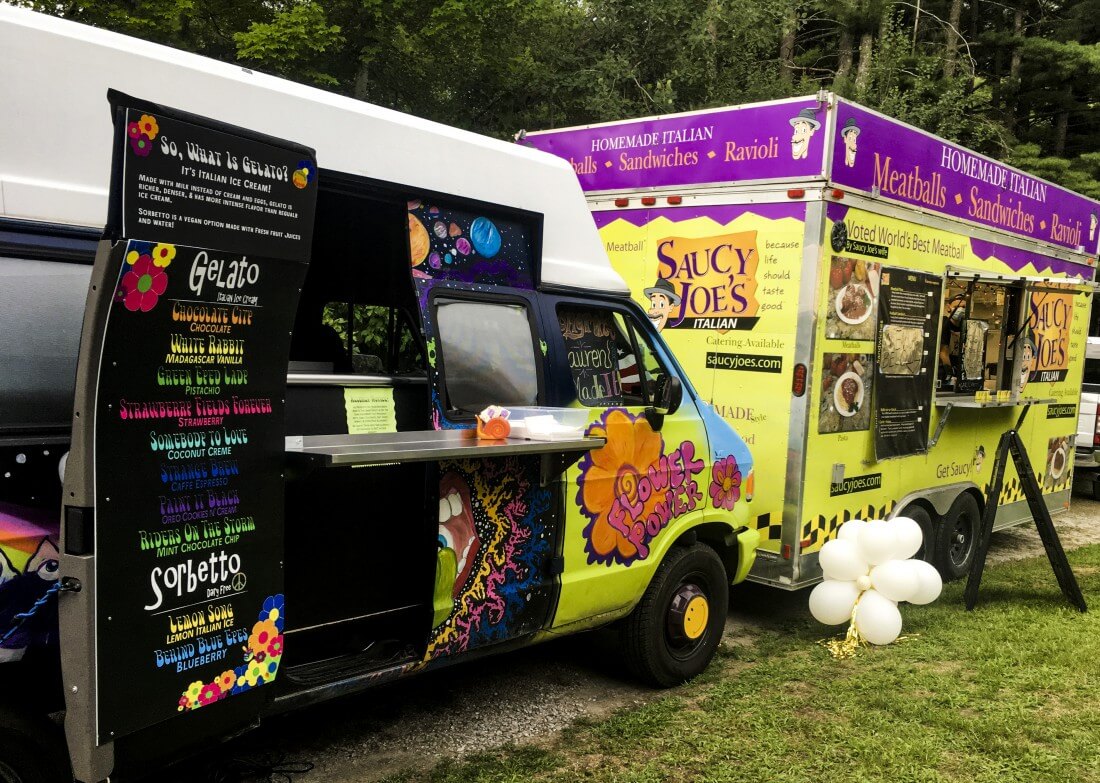 Saucy Joe's
has been Metro Detroit's premier grad party caterer for over 13 years. Saucy Joe's Italian food truck offers unrivaled Italian-inspired fare, cooked and served fresh, while providing outstanding service in a fun atmosphere. Good Vibrations Gelato "hippie-style van" serves incredible gelato and sorbetto, giving your guests a sweet and memorable experience!
---