12 Creative Ideas to Make Your Graduation Party Decorations Pop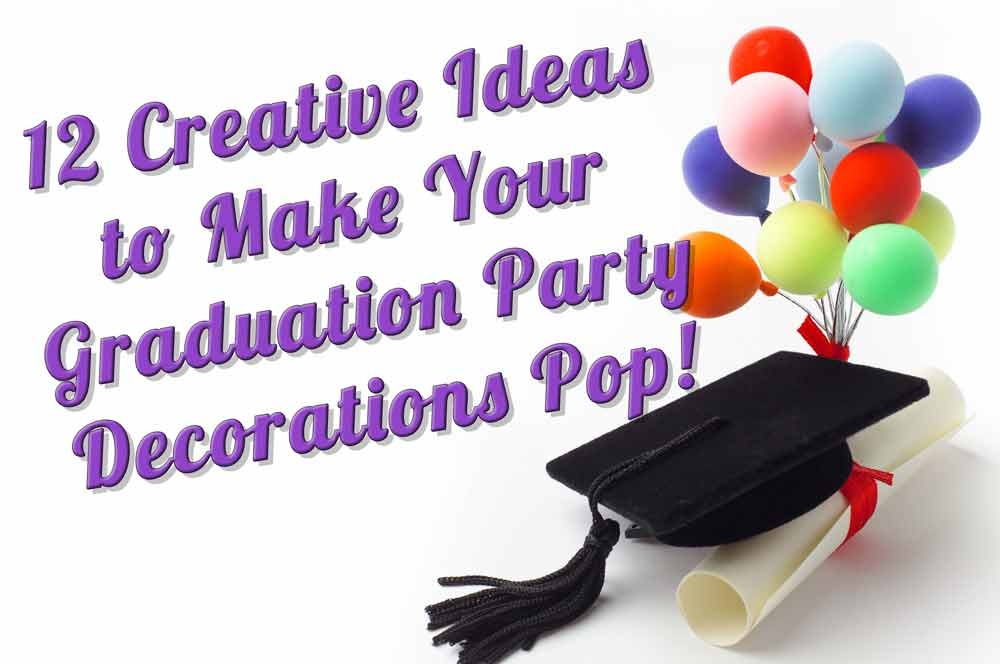 It's almost graduation season - which means that planning the perfect celebration for a grad in your life started... yesterday!
If you are feeling the pressure to put together an unforgettable grad bash for your favorite scholars, don't stress. We've got you covered with 12 great graduation party ideas that will take your decorations to the next level!
1. Set the Mood with String Lights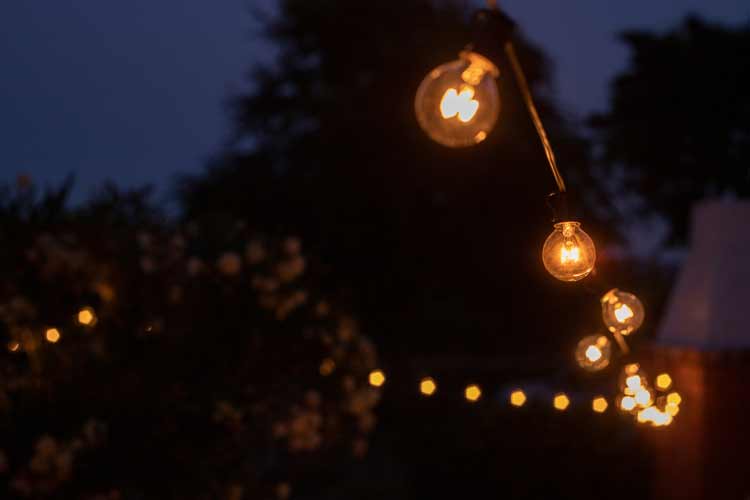 One of the most popular ideas for a graduation party is using string lights to transform your space into a magical venue. String lights come in various colors and shapes, so hang them up around the backyard or party area to create a stunning atmosphere.
You could line up the string lights around trees, along the patio railing, or even transform your entire home with a light show. The lights can be draped over tables and chairs to create an enchanting atmosphere.
2. Utilize Graduation Balloons Strategically
Everyone knows that you need balloons for a graduation party, but you might be surprised to learn how much more effective strategically placed balloons can be. Choose your colors wisely and use different sizes of balloons to add visual interest.
For instance, fill up the ceiling with colorful helium-filled latex balloons in an array of sizes to create a floating effect. Or use smaller personalized balloons to create graduation party centerpieces that will wow your guests.
3. Welcome Guests with a Graduation Balloon Arch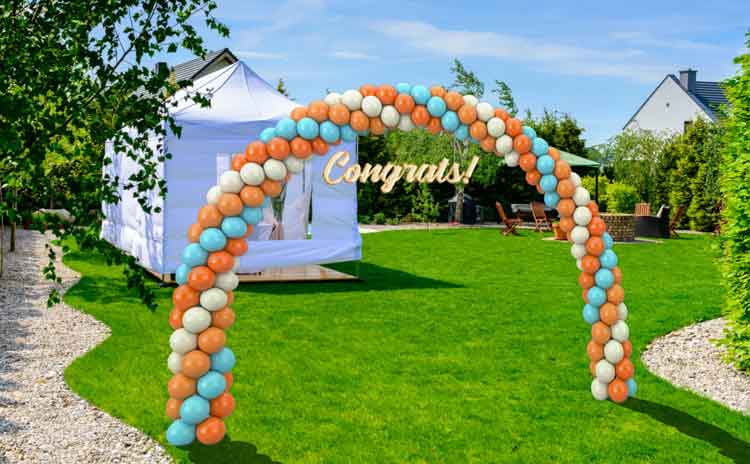 On the topic of balloons, why not welcome your guests with a grand entrance in the form of a graduation balloon arch? These graduation party decorations are a new take on the traditional archway and can be made in various colors and sizes.
You could even personalize it by adding streamers or ribbons in the school colors, or a combination of metallic balloons to give the graduation balloon arch a real pop!
4. Celebrate Your Grad's Next Step with Your Graduation Table Centerpieces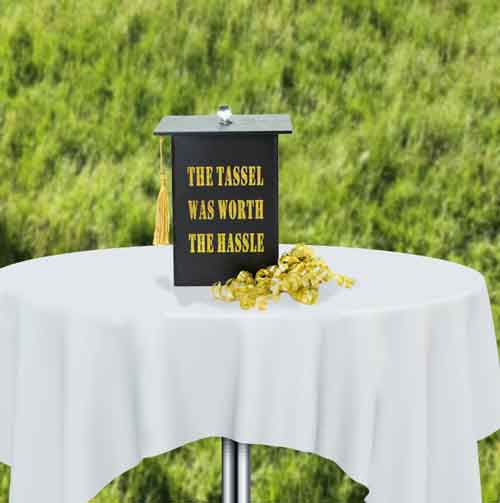 Suppose you are going to have tables at your party. Why not make them extra special with graduation party centerpieces that honor the grad's next step in life?
Choose table decorations themed around where they are headed - from their chosen college or university to a new job or even a backpacking trip around the world. You can create your personalized graduation centerpieces with mini chalkboards, graduation caps, and confetti poppers.
5. Create Fun Photobooth Spots
Rather than rush around and try to grab pictures yourself, why not put your guests in charge of creating fun memories?
Set up a few photobooth spots with props like sunglasses, funny glasses, and graduation-themed hats. You can even make it interactive with DIY photo strips or cutouts of an image of the grad that guests can hold for fun pictures.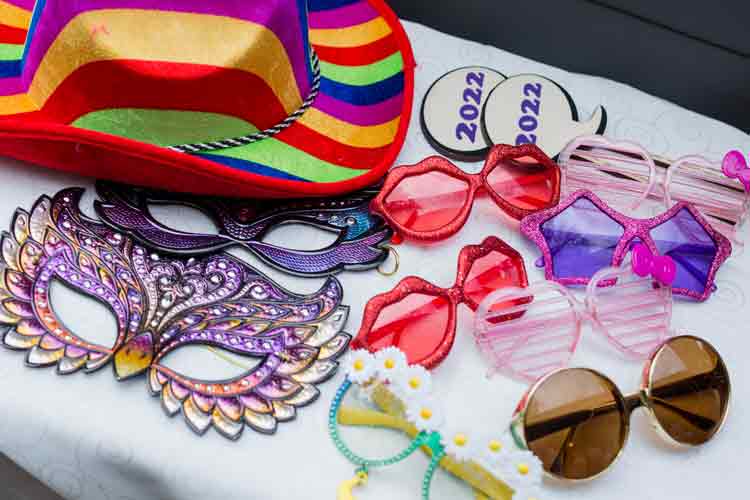 6. Remember The Theme!
Don't forget the theme, no matter how creative you get with your decorations! A graduation party theme will bring cohesion to your decorations, so choose wisely.
When picking out a theme, consider the interests and passions of the grad in question - from their major to hobbies or favorite places. Then use this information as inspiration for everything from the table settings to signage and other decorations.
A few graduation theme ideas could include:
The Geography Grad - a globe or world map with balloons in the school's colors
The Music Lover - records and speakers with a music-themed cake
The Sports Fanatic - school colors everywhere with sports equipment accents.
Make sure all of your decorations work with the chosen theme. This will help to create a cohesive atmosphere that will make your graduation party even more memorable!
7. Put Together a Gift Table
Your grad will likely receive quite a few gifts at their party, so bring the presents together in one area with a unique gift table.
You can create this with an eye-catching tablecloth, personalized signage, and decorations like pom-poms or balloons in the school colors. Put the gifts on display - it's sure to make your grad feel extra special!
8. Have Fun with Graduation Party Backdrops
No graduation party is complete without a few fun backdrops - these are great for photos and can be used as photo booth spots.
Think of the grad's interests or favorite places and use those as inspiration for your backdrop designs. You could also create a larger-than-life image of the school mascot or some other relevant design with tissue paper or fabric. Or go wild with a balloon wall or curtains of streamers.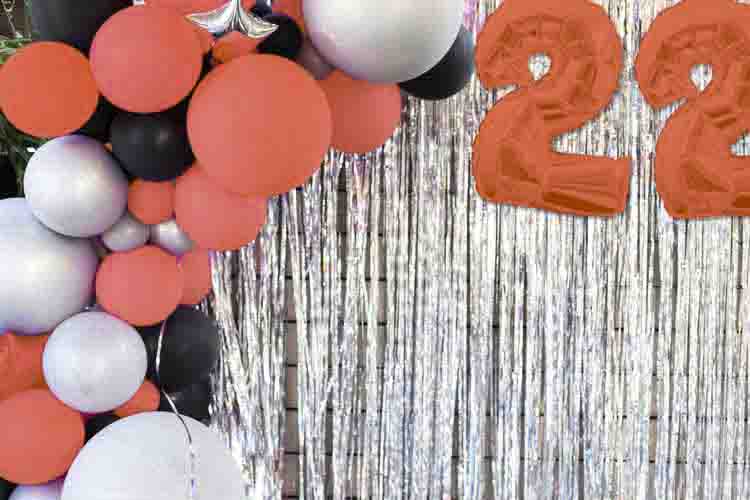 No matter what you choose, make sure to add some lighting to draw attention to the backdrops and create a fun atmosphere.
For more on what to consider when planning your graduation party, explore more with these 15 Awesome Ideas!
9. Get Nostalgic with a Photo Table
No graduation party is complete without the obligatory 'then and now' photos. Put together a nostalgic table with pictures of the grad's childhood, school days, and other memories that will bring real smiles to your guests' faces.
Create a display board or table with all the photos - if you have enough space, make it extra special by adding their trophies and awards. It's a great way to honor the grad and celebrate all of their accomplishments!
10. Build an "Advice Box"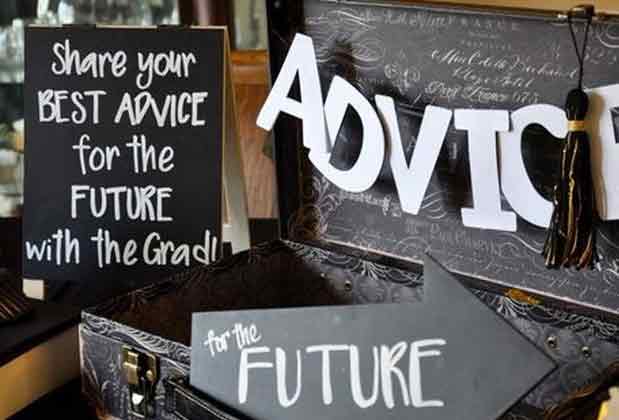 A fun decoration for a graduation party is to build an "advice box" where guests can leave the grad positive messages and well-wishes. This is sure to be a great way to make your graduate feel extra special!
You can create this area by placing a box or basket with cards on the table and inviting your guests to write down their thoughts. You could even have a special song dedicated to the grad or showcase a few of their favorite quotes. These small thoughts can make a huge difference!
11. Don't Forget The Little Details
Don't forget to pay attention to all the little details. Remember tablecloths, napkins, silverware, and plates in the school's colors. Also, think of creative ways to display the food, like mini graduation hats or confetti poppers.
These little touches will bring your decorations together and make your graduate feel special! You can even create small centerpieces that double as a holder for all the supplies.
12. Bring Your Food & Fun Together
Food is a must at a graduation party, but what if you combine food and fun? Catering your event allows you to create a menu that works with the party's theme.
Think about the grad's tastes and favorite foods, then devise creative ways to serve them. There's no end to the number of options you have - from cupcakes with the school's logo to cookies shaped like diplomas. Your guests will surely enjoy the food and fun.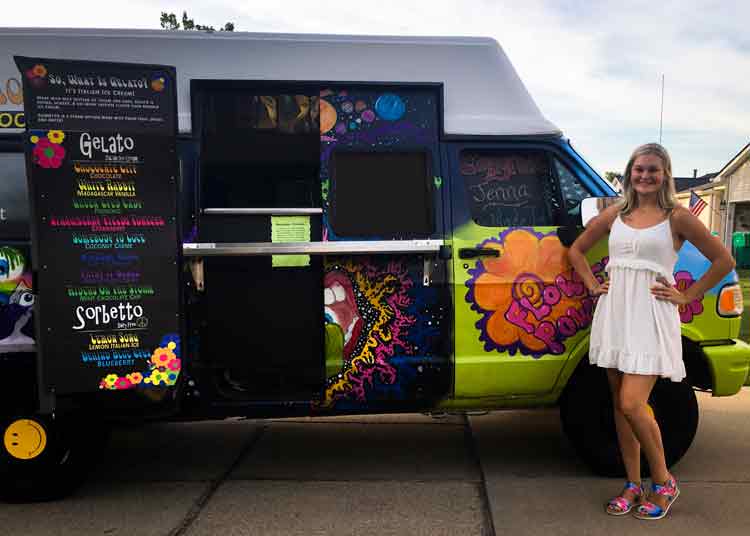 If you really want to impress, hire a food truck to cater your party! Doing so will add great food and wow guests while doubling as part of the decoration! Taking the stress of cooking away from you, booking a food truck will allow you more time to concentrate on your decor and entertainment.
With a bit of creativity and organization, you can create an event that celebrates your child's accomplishments in style. These simple decoration ideas for your grad party will guarantee a lasting memory for all!
---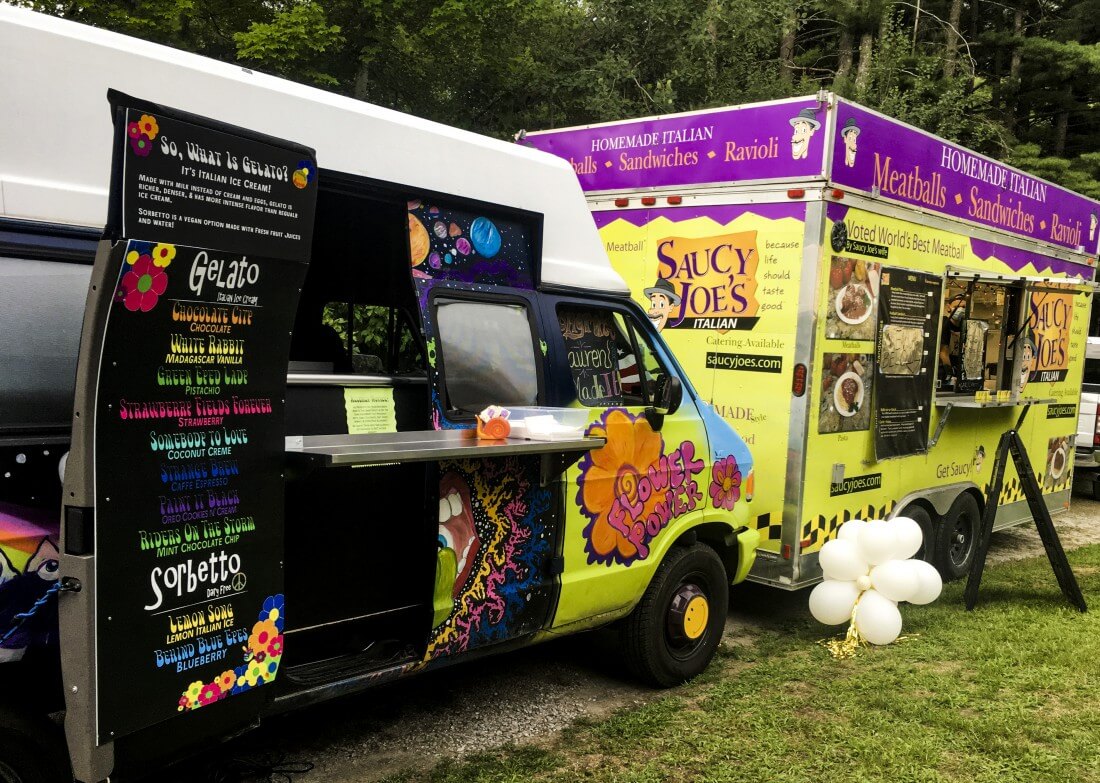 Saucy Joe's
has been Metro Detroit's premier grad party caterer for over 13 years. Saucy Joe's Italian food truck offers unrivaled Italian-inspired fare, cooked and served fresh, while providing outstanding service in a fun atmosphere. Good Vibrations Gelato "hippie-style van" serves incredible gelato and sorbetto, giving your guests a sweet and memorable experience!
---
For more on what to consider when planning your graduation party, check out these 11 Great Tips!