Livonia's Favorite Choice for Authentic Homemade Pasta Sauce
Looking for authentic Italian cuisine for your next event? Hire a food truck!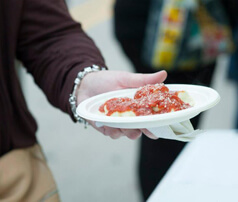 From gourmet street food, to event catering, to retail store products, Saucy Joe's is Livonia's source for fantastic homemade Italian foods and gourmet pasta sauce. Our passion for quality food starts at the heart of Italian food, the sauce. All of Saucy Joe's gourmet products are great tasting, healthy foods using only the finest ingredients.
Joe's mobile food trucks are the heart of the street operations. The place to get the love in to your tummy. Our trucks are fully licensed, fully operational mobile commercial kitchens, able to cook up a storm at events, lunches, functions, parties...you name it. Whether you have one of our food trucks at your event, or you just need traditional catering, we can satisfy your needs and hopefully meet your budget. On top of that, you can also purchase Saucy Joe's line of gourmet Italian products at your local grocer! At the end of the day, Saucy Joe's philosophy is to make eating a great tasting meal part of your lifestyle, whether at lunch, at home, on the go, or on the streets.
What's so great about Saucy Joe's?
You mean besides our amazing sauces and fantastic food? We are the midwest's ORIGINAL (and still the best) Italian food truck. We give you more than great food, we give you an experience!
True Gourmet Food
Fun to Engage With
Flexible and Customized Menus
6 Years in Business
There are many ways to enjoy our food!
Mobile Food Truck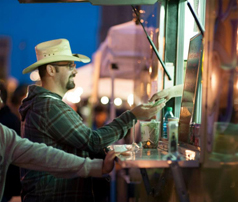 Saucy Joe's is gourmet street food! We have 6 years of experience catering by food truck and traditional set ups. We love corporate lunches, corporate meetings, reunions, retirement parties, graduations, weddings, sports events, house parties, company picnics and more!
You don't need no stuffy, expensive restaurants to have gourmet Italian food. If you want us at your location, call us, Facebook us, Twitter us, email us! You ain't gonna find no better mobile Italian gourmet food cart, guaranteed!
---
Catering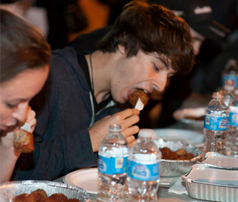 For Saucy Joe's catering, you'll see both our "basic everyday" menu that includes daily options you might (or might not) find on one of our food trucks, as well as our basic catering menu. The catering menu includes a larger selection that is mostly for traditional catering with trays, whether the food is dropped off or if we stay on as a full-service buffet. You can download our catering menu to see all of our basic options.
---
Store Products
Our first products, by high demand: our pasta sauce. Saucy Joe's line of gourmet Italian products is available for purchase at your local grocer! Thank you to all the great people that have invested in and enjoyed our jars of sauce!
Find out where to buy our products
Lush Sauce:
This sauce it Fat free, but you wouldn't know it! Similar to a marinara, but much bolder and full of flavor. Lush sauce is great by itself, but much better on meatballs or pasta. It's got a tiny kick, but won't hurt the crybabies.
---
Racy Olive Sauce:
Another Saucy Joe's original. A spicy, rich, bold and sexy low fat tomato sauce with Kalamata and Manzanilla olives. It has just enough heat without ruining the flavor of the sauce. There is no fishy flavor as in Puttanesca sauces. Totally yummy!
---
Romano Cream Sauce:
Saucy Joe's own homemade better-than-alfredo creamy Romano cheese sauce. If you're looking for a great white sauce, look no further!
We don't like to brag, so we let our customers do it for us...and they said a mouthful!
"Great food is hard to find when dining out. But when you were at the Plymouth Art Fair in Plymouth, MI that was the best Ravioli that I have ever eaten. It was so good I had it for lunch 2 days in a row. Please open a cafe." Brian
"The Meatball sandwich is beyond words how good it is...but then I tried the Sicillian, and I think that might be better. So I guess I will have to find out where you are next so I can both both at the same time and compare. Thanks for such great food." Mike S.
---
Whether you're looking to make a splash at your next event, on the go, or making lunch at home, Saucy Joe's wants you to enjoy the very best tasting gourmet Italian cuisine using the freshest ingredients. Follow our truck, find our sauces in your local supermarket, or fill out our online form and send us a message to learn more about catering options and renting our truck for your next party!