Make Your Next Event Special With Rochester Hills MI's Best Food Truck Catering
Hire a food truck for your next event!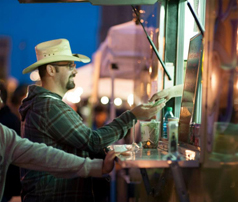 Saucy Joe's is an Italian food maker providing delicious gourmet street food for hungry customers in Rochester Hills MI and in the Metro Detroit area. You don't need no stuffy, expensive restaurants to have gourmet Italian food. From gourmet street food to event catering, Saucy Joe's goal is to make the most awesome handcrafted pasta sauces in the world, complement them with fantastic homemade Italian foods, then sprinkle a bit of fun on top.
Our trucks are fully licensed, fully operational mobile commercial kitchens, able to cook up a storm at events, lunches, functions, parties...you name it. Saucy Joe's gourmet products start with the freshest, best tasting ingredients, and we work extremely hard to serve you the very best in old school gourmet Italian cuisine. This is some bad-ass, full-flavored, homemade Italian food from our mobile truck to your mouth via the street, your business, event, or party, wherever we can fit. We give you more than great food, we give you an experience!
Hire Rochester Hills MI's Best Food Truck for Your Next Event!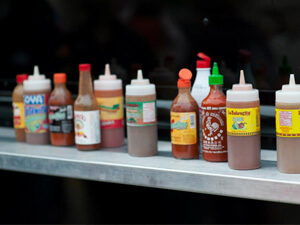 We have 6 years' experience catering by food truck and traditional set ups. With Joe, you won't get the "oops" factors inexperienced trucks seem to have. You never run out of food, your guests will be satisfied every time. We can combine menu items from Saucy Joe's food truck and add items like hot dogs and cannoli - even special requests are welcome!
We love corporate lunches, corporate meetings, reunions, retirement parties, graduations, weddings, sports events, house parties, company picnics and more!
Adds Fun & Novelty to Your Event
Allows Guests to Choose Own Menu Items
Fresh, Gourmet Food is Cooked Order Right at Event
Dietary Concerns can be Addressed On-site
No Tables to Rent
No Serve-ware to Worry About
No Permits or Special Licenses
Less Waste = Less Cost
Street diners can choose from a number of Italian plates and flavorful, fresh sauces including:
Meatballs:
Voted world's best meatball (by Saucy Joe's wife). Our own secret recipe. We can't describe these here. If you're a meatball connoisseur, just take one bite, and you'll see what we mean. You gotta try them.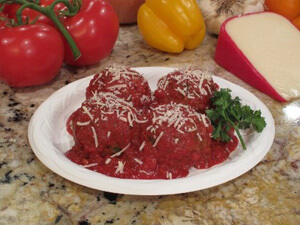 Meatball Sandwich:
Wow! What a sandwich! Ciabatta bread, Saucy Joe's famous meatballs, provolone cheese, all smothered in our Lush sauce. And you won't need a search party to find the meatballs. Holy Crap! Can you even finish one?
Cheese & Spinach Ravioli:
Saucy Joe's own pasta, stuffed with a custom blend of Italian cheeses and freshly chopped spinach, covered with your choice of Lush or Racy Olive sauce. These babies melt in your mouth!
Pasta:
Your choice of available pastas from vermicelli to farfalle, Covered with Lush or Racy Olive sauce. And of course it's great with meatballs.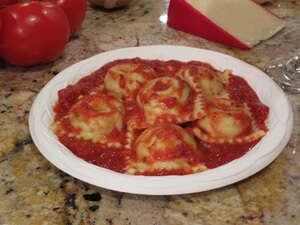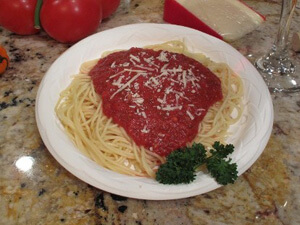 ---
Lush Sauce:
This sauce it Fat free, but you wouldn't know it! Similar to a marinara, but much bolder and full of flavor. Lush sauce is great by itself, but much better on meatballs or pasta. It's got a tiny kick, but won't hurt the crybabies.
---
Racy Olive Sauce:
Another Saucy Joe's/Dago Joe's original. A spicy, rich, bold and sexy low-fat tomato sauce with Kalamata and Manzanilla olives. It has just enough heat without ruining the flavor of the sauce. There is no fishy flavor as in Puttanesca sauces. Totally yummy!
---
Romano Cream Sauce:
Saucy Joe's own homemade better-than-alfredo creamy Romano cheese sauce. If you're looking for a great white sauce, look no further! ($1.00 extra)
---
What are you waiting for? Try our delicious dishes!
---
You already know the Saucy Joe's food truck serves up an amazing menu of all natural, bold, delicious gourmet Italian food directly from our truck to your mouth. Find out where we are and get some incredible food -- enjoy it with friends, take it back to your office, or hire us for your next event!
Food Truck Catering in Rochester Hills MI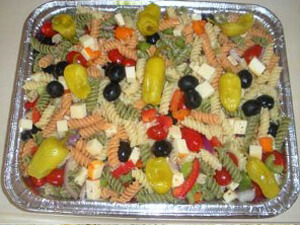 For Dago Joe's/Saucy Joe's catering, you'll see both our "basic everyday" food truck menu that includes daily options you might (or might not) find on one of our food trucks, as well as our basic catering menu. The catering menu includes a larger selection that is mostly for traditional catering with trays, whether the food is dropped off or if we stay on as a full-service buffet.
You can download our catering menu to see all of our basic options. Of course, we want to make you happy- so be sure to ask if you don't see something you want. We'll be happy to create a custom menu item for you.
Catering Menu
We love hearing from our satisfied customers!
"You guys catered our company Christmas party today! Big hit! Great job guys!!!" Emma T.
"The Racy Olive sauce & Meatball Slider were absolutely delicious!" Tara G.
---
With over 6 years of experience in Metro Detroit food truck catering, you'll have peace of mind knowing that we have the know-how to help make your event hassle-free and memorable. Contact us today to learn more!